This is a Basic Course and is the know how on everything Lash Extensions.
This manual will give a detailed insight into every aspect of lashing, not only improving your exising skills but opening your mind to an army of advanced techniques that we can use every day on our clients to create so many different looks
Your Instructor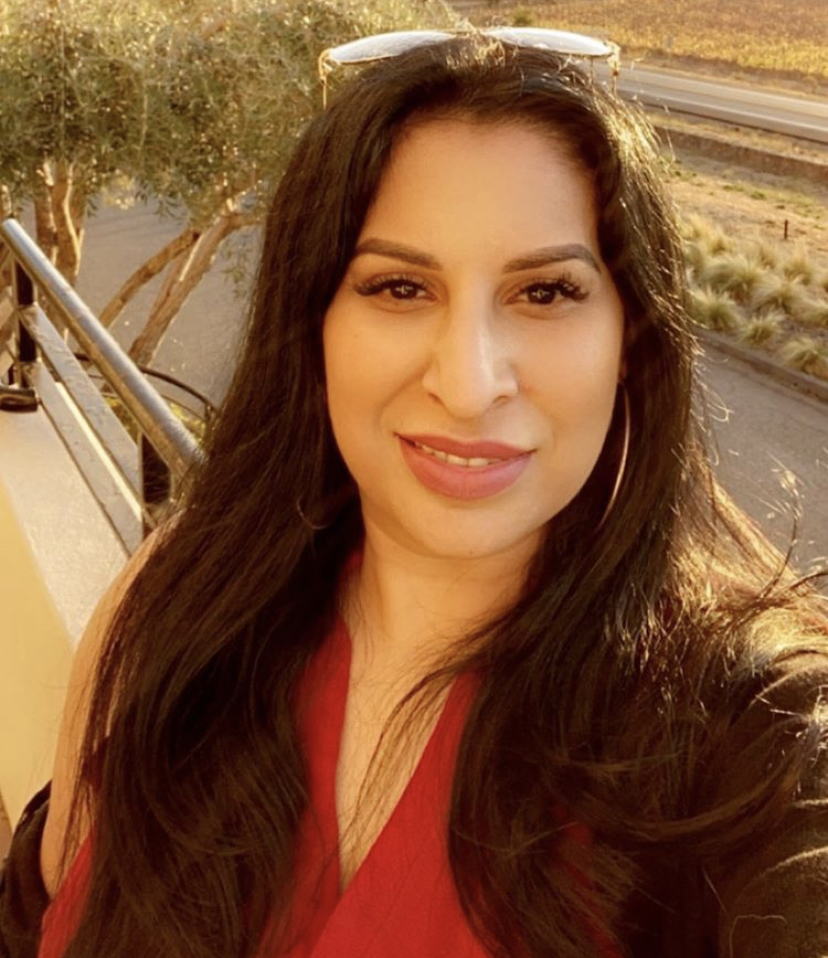 CA licensed Esthetician, Permanent Make up Artist, CPCP and Lash Artist since 2006. Trained over 400 Artists in last 6 years and now just focussed on education
Course Curriculum
All About Lash Extensions - Basics you must know
Available in days
days after you enroll
Level Up your Lash Game- Application
Available in days
days after you enroll
In this class you'll learn:
Exactly what makes some eyelash extensions better than others

3 critical reasons to use regulated tools and supplies so that you don't cause yourself extra headaches like lawsuits, health code fines, wasted money, and loss of repeat clients

The importance of primer to solve the problem of poor adhesion, premature lash loss, a dull finished look, and unnecessary lash fragility

The difference between a "bonding primer" and an "all-purpose" primer and how some primers damage natural lash extensions

Exactly what makes a primer exceptional and what can go wrong with low quality primers

Exactly how to use primer to prepare the natural lashes for maximum adhesion so you can be 100% confident that you applied it correctly

Exactly how to store your primer including the shelf life so that you don't risk using an expired or ineffective product

The answer to the question "How is using adhesive correctly critical to an expert, long-lasting eyelash extensions application.

The importance of adhesives that are made to bond porous materials (like natural eyelashes) to non-porous materials (like eyelash extensions) versus those that aren't designed to create this unique chemical "lock"

How to use adhesive to prevent biochemical microbial infections (and the risks of missing this important step)

Exactly how to select the right adhesive to create the perfect environment for maximum lash adhesion, client comfort, and safety for each individual client and their unique requirements

The answer to the question "What's the difference between a high-quality laboratory-developed adhesive versus a mass-produced "fad" adhesive?

How heat-resistant, water-resistant, and steam-resistant adhesives improves client satisfaction dramatically so that you can set yourself apart

Exactly how long each adhesive must cure before your client can resume certain lifestyle activities like swimming, tanning, working out etc. (This information is critical because virtually ever client will ask you this question based on the adhesive you used)

The #1 solution to reduce the chance of chemical burn by using adhesives that are vegan and naturally-derived.

Exactly when to use a regular, extra-strength, or sensitive adhesive and how to determine when a client is ready to upgrade to a higher bond

Exactly how to keep your adhesive at the perfect temperature throughout the lash application to maintain the proper consistency so that you are 100% confident that each lash is secure

How to keep your adhesive surface clean and hygienic according national health standards

Exactly how to store your adhesives including the shelf life, temperature, and lighting requirements so that you don't risk using an expired or ineffective product

How to use eyelash extensions remover to counteract the strongest adhesive bonds while dissolving them gently

Exactly how to remove (not just soften) hardened adhesive that has been set for months so that clients who have received poor lash applications elsewhere will be thrilled to comfortably be free of the painful clumps of adhesive from her previous lash technician and ready for beautiful, comfortable, pain-free fringes.

Exactly how to assess when to apply additional remover to the lashes (and how to determine when it just needs to set longer).

The exact tools to use when you're removing a full set of lashes versus removing lashes for small, fine corrections

Exactly which tools to use to apply remover and prevent costly product absorption and/or drippage

The exact tweezers to use for quick and masterful lash application

The exact tweezers to use for quick and masterful lash isolation

Our company secret on how to pick up lashes simply and easily so that you can increase your lashing speed without compromising on product quality

The common drug store products to NEVER use on eyelash extensions (or instruct your client to use) that will cause a nightmare that will require a total removal and re-do of the lash application

The #1 after-care product to prevent clients from losing lashes quicker than necessary so that they thank you for the expert recommendation (rather than giving up on eyelash extensions altogether).

The uncommonly known low-cost gift to give to your client after their appointment so that they can keep their lashes separated and perfectly fanned, even a few weeks after their visit

A common cause of irritation, lash loss, and clogged follicles (and how to prevent it)

The exact tool to use to "open" your lash strips for easier pick-up so that you can place lashes quicker and more precisely (which doubles as a convenient way to organize your patterns saving you time and frustration)

A simple trick to "lock" the lash extensions bond so that your customer can experience improved retention

The right way to protect the eye area so that your client experiences maximum comfort, minimum irritation. (This must-have method includes a BONUS beauty treatment that softens fine lines around the eye area making the customer look like she had 8 hours of sleep)

The #1 product you'll use to prevent the eye protection setup from shifting and moving so that the client remains comfortable and happy during her "lash nap" (without the common pitfalls of the eye protection rising into the clients tear lines causing burning and discomfort)

The exact solution to serving clients with sparse lashes, missing lashes, or lashes that have undergone chemotherapy so that you always have a full fringe of long, strong, natural lashes to work with

Exactly what you must tell clients in order to enhance and add extra "oomph" to their eyelash extensions safely (without resorting to drug store mascaras that will cause premature lash loss and breakage)

Exactly what you must tell your "heavy eye makeup" clients on how to clean their eye area safely (without resorting to preservative-laden, falsely labeled "oil-free" drugstore makeup removers that cause premature lash loss and break down of the adhesive bond)

How to use lighting to enlarge your view of the lash area and reduce the focal length of your vision all while reducing eye strain so you can easily provide the maximum fullness and volume for your clients

How to use lighting to create a bright and soft visual area (without causing painful glare on your clients) so that you can take the most perfect, gorgeous, instagram-ready before and after photos

The #1 product that helps you impress your clients with care and professionalism so that there is no guesswork for them to keep their lashes beautiful for the longest time possible.

How to eliminate uncertainty that clients feel when they have lash extensions applied for the first time

The #1 product that will help you WOW your clients with thoughtfulness so that they can leave with the peace of mind that you're committed to providing the lashes of their dreams professionally and safely
You Will Receive the Following Bonuses!
How to enhance green eyes

How to enhance blue eyes

How to enhance brown or hazel eyes

How to add a "twinkle" to your clients lashes for parties, holidays, and special events

Done-for-you beautifully designed size 5×7 chart you can display in your studio including 6 Curl Shapes, 10 lengths, and 8 thicknesses to help you showcase the results you can help your clients achieve.

In this class you'll learn
We are so lucky now to have such a vast variety of lengths, curls and thickness of lashes so that we can select the correct extensions to use on our clients. The techniques of combining these together, is the key to creating whatever look our clients desire:
CURLS
J curl – rarely used these days – looks too natural
B curl – natural looking curl, great for a natural look or older clients
C curl – a great universal curl and a very popular choice
CC curl – adds more drama for a natural, yet drama!c look
D curl – popular choice for an extra drama!c look
L curl – used on super straight natural lashes and hooded eyes
L+ curl - A much sharper lift of curl. We are seeing incorporation of all sorts of C, D with L+ to be able to customize lashes
THICKNESS
(volume application)
0.03 advanced technique for experienced techs only
0.05‐0.07 – ultra fine extensions (2‐8 extensions can be applied to one natural lash)
0.10 – fine extensions (2‐3 applied to one natural lash – used for advanced technique of capping and stacking).
(classic application) 0.12 – suitable for clients with thin and weak natural lashes
0.15 – suitable for clients with healthy natural lashes
0.18 – suitable for clients with strong natural lashes
0.20 – suitable for clients with extra strong natural lashes (rarely used – too heavy)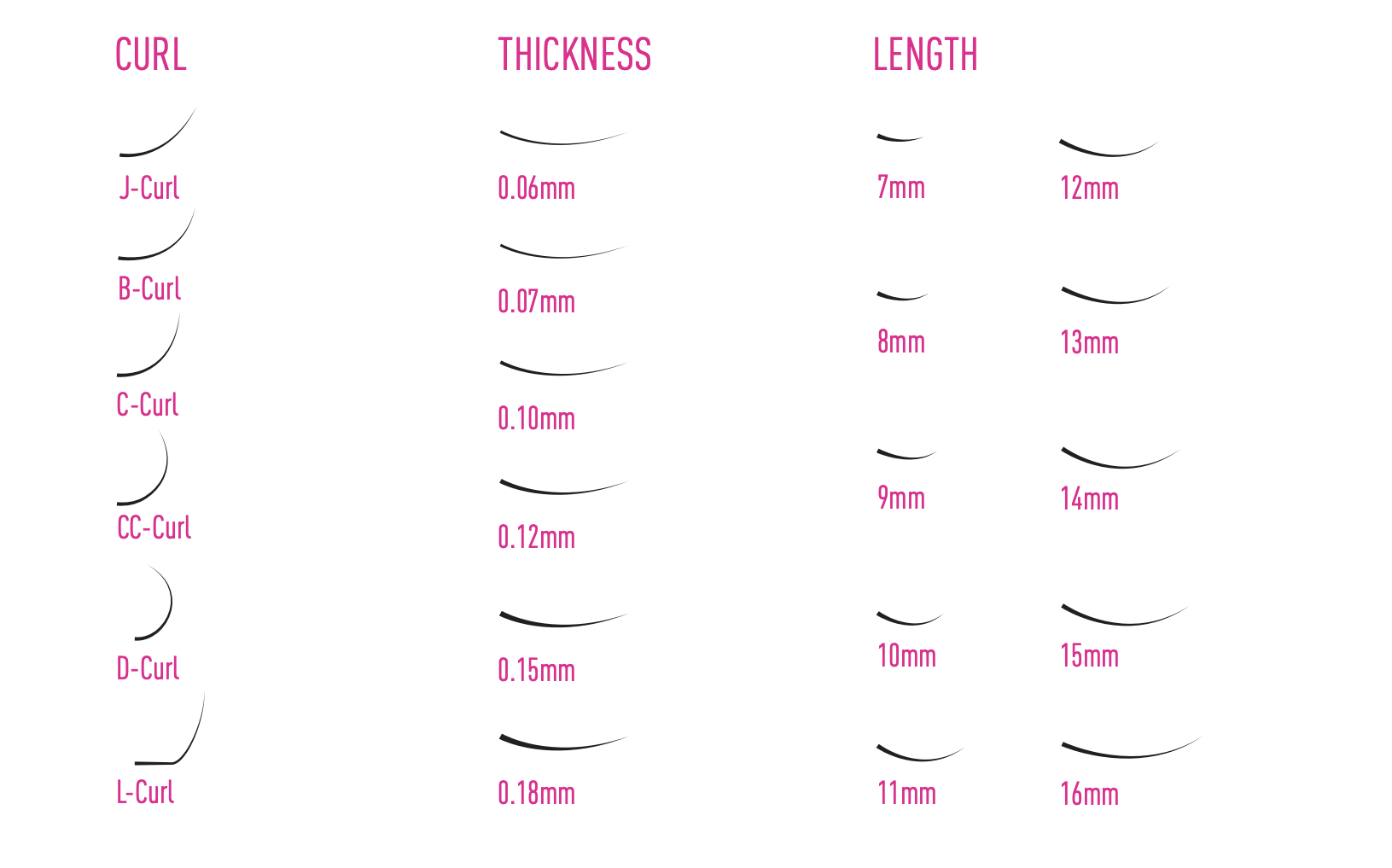 Frequently Asked Questions
When does the course start and finish?
The course starts now and never ends! It is a completely self-paced online course - you decide when you start and when you finish.
How long do I have access to the course?
How does lifetime access sound? After enrolling, you have unlimited access to this course for as long as you like - across any and all devices you own.
What if I am unhappy with the course?
We would never want you to be unhappy! If you are unsatisfied with your purchase, contact us in the first 30 days and we will give you a full refund.